Ulaan Ovoo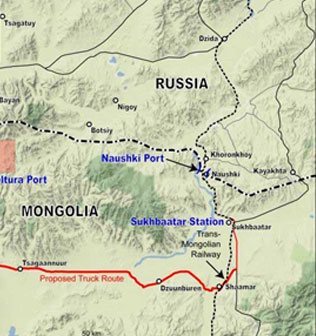 Prophecy's 100% owned Ulaan Ovoo coal deposit is approximately 430 km by paved highway from the capital city of Mongolia, Ulaanbataar. It is also strategically located just 17 km from the Russian border and 120 km from both Mongolian and Russian rail links. Since September 2011, Prophecy has sold and delivered some 188,915 tonnes of thermal coal, including 8,055 tonnes to Russia, 23,543 tonnes to private Mongolian companies, and 157,317 tonnes to Mongolian government owned power plants.

In 2012 Prophecy entered into a contract with a local Mongolian direct reduced iron (DRI) manufacturing plant, for the sale of 22,100 tonnes of thermal coal from the Company's Ulaan Ovoo mine and the buyer has indicated that it would eventually like to increase the supply from Prophecy to 300,000 tonnes on an annual basis.
The Company has contracts to deliver an additional 228,388 tonnes in 2012, the majority of which is to be delivered to the Darhan and Erdenet power plants in Mongolia. In just over a year, Prophecy's Ulaan Ovoo mine became the largest independent supplier of coal to Mongolian power plants.

Since 2010, the Company has invested over $52 million at Ulaan Ovoo, including road and bridge building, mining fleet, mining camp, pre-stripping, and other infrastructure and community improvement. In July of 2012, Ulaan Ovoo coal mining operations have been temporarily suspended because the current stockpile of coal (187,000 tonnes) is sufficient to meet contractual supply obligations through the balance of 2012.

In 2012, the Company received commitment and interest for a substantial quantity of Ulaan Ovoo coal from Russian buyers, however Prophecy is postponing sales to Russia pending the opening of the Zheltura border crossing and a revised export royalty scheme from the General Department of Taxation of Mongolia. Prophecy is currently paying export royalties based on a government-set benchmark coal price which is nearly 3 times higher than the Company's actual sale price. Prophecy is optimistic that progress will be made on both royalty and border opening fronts to improve the margin on sales.

The Ulaan Ovoo project contains 209 million tonnes of measured and indicated coal resources (NI 43-101; 174 Mt of measured and 34 Mt of Indicated).
Surrounding the deposit are other prospective coal-bearing basins similar in size to Ulaan Ovoo. Prophecy has obtained four transferable licenses covering these basins. In June 2011, Prophecy acquired the rights to acquire 100% ownership of the 4,773-hectare Ilch Khujirt property (Ilch) located 17 km northeast of the Ulaan Ovoo coal mine. The Ilch property is contiguous to Prophecy's existing 7,392 hectare Khujirt exploration license. Prophecy immediately started to evaluate the coal resource potential of the licenses. In 2011, Prophecy began exploratory drilling activities to better evaluate the coal resource potential of their licenses and the Ilch Khujirt property. Read more >>
Highlights:
208.8 million tonnes of measured & indicated coal resource (NI 43-101; 174 Mt of measured and 34 Mt of Indicated)
Bituminous (5,040 kcal/kg), low ash (11.3%), low sulphur (0.40%) thermal coal suitable for export
Single massive coal seam 45-80 m thick with an average strip ratio of 1.8:1
First 8+ years of mining requires no coal washing
Transferable 30-year mining license with a 40-year extension option
Environmental approval and mining licenses granted by the Mongolian government
Over 33,000 hectares of exploration licenses in surrounding sedimentary basins with potential for additional resources
Secured railway loading capacity through Mongolia's Sukhbaatar Railroad station
Ulaan Ovoo Coal Resource:
| | Coal (Tonnes) |
| --- | --- |
| Measured | 174.5 Million |
| Indicated | 34.3 Million |
| Total M&I; | 208.8 Million |
| Inferred | 35.9 Million |
Ulaan Ovoo resource estimate is from the NI 43-101 Behre Dolbear report prepared in 2007. Coal reserves estimate from the NI 43-101 report prepared by Wardrop Engineering in 2010. Detailed Resource/Grade Table
Technical Reports:
Videos and Photo Gallery:
Videos
Photo Gallery
News Releases:

August 9, 2012 - Ulaan Ovoo Update

May 24, 2012 - Prophecy Coal Signs Ulaan Ovoo Coal Offtake Agreement with Direct Reduced Iron Manufacturing Plant in Mongolia

May 8, 2012 - Prophecy Coal Provides Coal Sales Update from Ulaan Ovoo

August 17, 2011 - Prophecy Makes New Coal Discovery 17 km From Its Ulaan Ovoo Coal Mine in Mongolia (Core Photo and Map Included)

June 29, 2011 - Prophecy Makes Landmark Shipment of Coal to Buryatia Province of Russia from Mongolia



June 14, 2011 - Prophecy Secures Far East Russian Sea Port Allocation and Provides Ulaan Ovoo Mine Production Update

May 4, 2011 - Prophecy Acquires Prospective Claims Near Its Ulaan Ovoo Mine In Mongolia


March 23, 2011 - Prophecy Provides Operation Update and Production Forecast at Ulaan Ovoo


January 5, 2011 - Prophecy Enters MOU for 1.2 Million Tonnes Per Year Coal Offtake With JUST Group


December 16, 2010 - Prophecy Files Prefeasibility Study for the Ulaan Ovoo Coal Mine in Mongolia


November 11, 2010 - Prophecy Receives Permit To Mine at Ulaan Ovoo in Mongolia, Opening Ceremony November, 20. (Ceremony photos included)


October 14, 2010 - Prophecy Resource Corp Announces Mine Commission Inspection Complete at Ulaan Ovoo in Mongolia. First Coal Shipment to Power Plant in Progress.

Back to Top
The documents on this page are PDF (Portable Document Format) which offer higher-quality printouts. To open these files, you will need Adobe Reader software. If you do not have Adobe Reader already installed on your computer, you can download the installer and instructions free from the Adobe Web site.

Mineral resources that are not mineral reserves do not have demonstrated economic viability. Neither the Toronto Stock Exchange nor its Regulation Services Provider (as that term is defined in the policies of the Toronto Stock Exchange) accepts responsibility for the adequacy or accuracy of this website.
Qualified Person under NI 43-101
Christopher M. Kravits P.Geo., a consultant of the Company is the qualified persons responsible for the technical information on this website.

Cautionary Note Regarding Mineral Resources and Mineral Reserves
Readers should refer to the Company's current technical reports and other continuous disclosure documents filed by the Company available on Sedar at www.sedar.com for further information on the mineral resource estimates of the Company's projects, which are subject to the qualifications and notes set forth therein, as well as for additional information relating to the Company more generally. Mineral resources which are not mineral reserves, do not have demonstrated economic viability. Inferred mineral resources have insufficient confidence to allow the meaningful application of technical and economic parameters or to enable an evaluation of economic viability suitable for public disclosure. Neither the Company nor readers can assume that all or any part of an inferred mineral resource will be upgraded to indicated or measured mineral resources. Most projects at the inferred mineral resource stage do not ever achieve successful commercial production. Each stage of a project is contingent on the positive results of the previous stage and that there is a significant risk that the results may not support or justify moving to the next stage.
Click here for the forward-looking statements and the cautionary note.