Projects
STOCK
INFO
Delayed by 20 minutes
Titan (Vanadium ON)
Overview: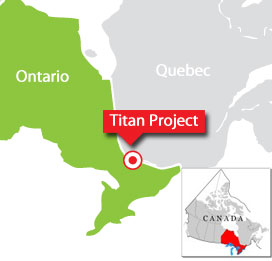 In January 2010, Prophecy Resource Corp. (now Prophecy Coal) entered into an option agreement with Randsburg International Gold Corp., whereby Prophecy assumed an 80% interest in the Titan Vanadium-Titanium-Iron. The Titan project is located in eastern Ontario, approximately 120 km east-northeast of Sudbury. Straddling the boundary between Angus and Flett townships, the property features proximity to excellent infrastructure. The main line of the Ontario Northland Railway crosses the property through the Bushnell flag station, about five miles southwest of the mineralized area. Highway 11, a main provincial highway linking northern and southern Ontario, is just 18 km west of Titan. A major high voltage transmission line (about 230-kv) runs approximately 2.5km east of the property and the Northern Ontario Natural Gas pipeline lies approximately 25km west of the property. Read more >>
Highlights:
Deposit is in Ontario, Canada, between Angus and Flett townships, with access to excellent infrastructure
142 metres of 0.27% Vanadium (0.48% Vanadium Pentoxide) from Hole RA-5-21 and 174 metres of 0.26% Vanadium (0.46% Vanadium Pentoxide) from Hole RA-5-10. Mineralization starts from the surface to an open vertical depth of 500 meters. The complete horizontal and vertical extent of the deposit is still to be determined.
Titan's Resource:
Based on resource estimated at cutoff grade of 40% Fe2O3.
| | Tonnes (t) | V (%) | TiO2 (%) |
| --- | --- | --- | --- |
| Inferred | 49.0 Million | 0.24 | 14.82 |
Based on resource estimated at cutoff grade of 40% Fe2O3.
| Metal | Inferred |
| --- | --- |
| Vanadium | 259 Million lbs |
| Titanium Dioxide | 7,259 Million kgs |
Based on resource estimated at cutoff grade of 40% Fe2O3. Titan resource estimate is based on the February 2010 NI 43-101 Technical Report by Mine Development Associates. The report is authored by Neil Prenn, P. Eng, who is an independent Qualified Person under NI 43-101. Titan is 80% owned by Prophecy Coal. Detailed Resource/Grade Table
Next Steps:
Survey drill holes and project area to obtain more accurate drill hole coordinates and site topography
Technical Report:
Table of Drill Logs:
Cautionary Note Regarding Forward-Looking Statements
Certain statements contained on this page, including statements which may contain words such as "expects", "anticipates", "intends", "plans", "believes", "estimates", or similar expressions, and statements related to matters which are not historical facts, are forward-looking information within the meaning of applicable securities laws. Such forward-looking statements, which reflect management's expectations regarding Prophecy's future growth, results of operations, performance, business prospects and opportunities, are based on certain factors and assumptions and involve known and unknown risks and uncertainties which may cause the actual results, performance, or achievements to be materially different from future results, performance, or achievements expressed or implied by such forward-looking statements. These estimates and assumptions are inherently subject to significant business, economic, competitive and other uncertainties and contingencies, many of which, with respect to future events, are subject to change and could cause actual results to differ materially from those expressed or implied in any forward-looking statements made by Prophecy.
In making forward-looking statements as may be included on this page, Prophecy has made several assumptions that it believes are appropriate, including, but not limited to assumptions that:; there being no significant disruptions affecting operations, such as due to labour disruptions; currency exchange rates being approximately consistent with current levels; certain price assumptions for coal, prices for and availability of fuel, parts and equipment and other key supplies remain consistent with current levels; production forecasts meeting expectations; the accuracy of Prophecy's current mineral resource estimates; labour and materials costs increasing on a basis consistent with Prophecy's current expectations; and that any additional required financing will be available on reasonable terms. Prophecy cannot assure you that any of these assumptions will prove to be correct.
Numerous factors could cause Prophecy's actual results to differ materially from those expressed or implied in the forward looking statements, including the following risks and uncertainties, which are discussed in greater detail under the heading "Risk Factors" in Prophecy's most recent Management Discussion and Analysis and Annual Information Form as filed on SEDAR and posted on Prophecy's website: Prophecy's history of net losses and lack of foreseeable cash flow; exploration, development and production risks, including risks related to the development of Prophecy's Ulaan Ovoo coal property; Prophecy not having a history of profitable mineral production; the uncertainty of mineral resource and mineral reserve estimates; the capital and operating costs required to bring Prophecy's projects into production and the resulting economic returns from its projects; foreign operations and political conditions, including the legal and political risks of operating in Mongolia, which is a developing jurisdiction; title to Prophecy's mineral properties; environmental risks; the competitive nature of the mining business; lack of infrastructure; Prophecy's reliance on key personnel; uninsured risks; commodity price fluctuations; reliance on contractors; Prophecy's minority interest in Prophecy Platinum Ltd.; Prophecy's need for substantial additional funding and the risk of not securing such funding on reasonable terms or at all; foreign exchange risks; anti-corruption legislation; recent global financial conditions; the payment of dividends; and conflicts of interest.
These factors should be considered carefully, and readers should not place undue reliance on the Prophecy's forward-looking statements. Prophecy believes that the expectations reflected in the forward-
looking statements contained on this page and the documents incorporated by reference herein are reasonable, but no assurance can be given that these expectations will prove to be correct. In addition, although Prophecy has attempted to identify important factors that could cause actual actions, events or results to differ materially from those described in forward looking statements, there may be other factors that cause actions, events or results not to be as anticipated, estimated or intended. Prophecy undertakes no obligation to release publicly any future revisions to forward-looking statements to reflect events or circumstances after the date when information on this page is published or to reflect the occurrence of unanticipated events, except as expressly required by law.