Projects
STOCK
INFO
Delayed by 20 minutes
Kanichee
Highlights
Close to good infrastructure, main roads, electricity and water
Ontario is one of the mining friendly jurisdictions
Location and Ownership
The Kanichee Mine, also less commonly known as the Ajax Mine, is an abandoned base metal and precious metal mine, located in the Temagami region of northeastern Ontario, Canada. It is near the small community of Temagami North, accessed by the Kanichee Mine Road from Highway 11. The Kanichee Mine zone has been explored and mined discontinuously from as early as 1910. During the 20th century, it operated and closed down at least three times, with the most recent being from 1973 to 1976. To date, the discontinuous operation of Kanichee Mine has produced 4.2 million pounds of metal.
History
Exploration work was done in the area prior to 1920 with the construction of trenches and two shafts. Between 1933 and 1936, Cuniptau Mines Limited sank a 75 m (246 ft) shaft and installed a pilot smelter. Production amounted to 44,975.6 kilograms of copper, 29,641.6 kilograms of nickel, and relatively small amounts of gold, silver, platinum and palladium. The deposit was later investigated by Ontario Nickel Corporation Limited from 1937 to 1948 then by Trebor Mines Limited from 1948 to 1949. Kanichee Mining Incorporated worked the property from an open pit to excavate both disseminated and vein ore to a depth of nearly 35 m (115 ft) from 1973 to 1976, and no mining operations have begun since then. Remnants of this open pit includes a small lake with gravel roads adjacent to and entering the lake and steep cliffs surrounding the lake from rock blasting. The total production at Kanichee Mine is 3 million pounds of copper and 1.2 million pounds of nickel with gold, silver and platinum group credits.
The main minerals found at Kanichee Mine include pyrite, pyrrhotite and chalcopyrite, occurring as semi-massive to massive veins. Considerable gold, silver, platinum and palladium occur with the sulfides.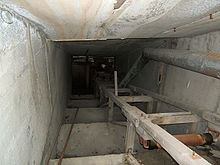 An old conveyor belt in a cement tunnel.
Click to enlarge
Geology, Mineralogy and Ore Reserves
The Kanichee area is associated with an igneous intrusion that has been termed the Kanichee layered intrusive complex. This roughly oval-shaped intrusive complex is part of a volcanic belt characterized by felsic and mafic metavolcanic rocks called the Temagami greenstone belt. Kanichee is among one of the three most notable mines in the volcanic belt, others include the Sherman Mine in Chambers and Strathy Townships and the Copperfields Mine on Temagami Island in Lake Temagami.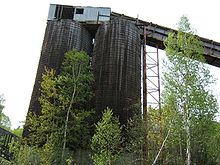 Building at Kanichee Mine.
Click to enlarge
The Precambrian oval-shaped Kanichee layered intrusive complex is the largest of many sill-like mafic-ultramafic bodies in felsic and mafic metavolcanic rocks in the northern portion of the Temagami greenstone belt. It comprises five magmatic series, each of which contains one or more types of igneous rock. A succession of cumulus phases comprising every magmatic series suggests that the Kanichee layered intrusive complex is south-facing, including the surrounding metavolcanic lava flows. This record indicates that magmatic rocks of the Kanichee layered intrusive complex originally formed in a level position and most likely very shallow beneath the Earth's crust.
All five magmatic series comprising the Kanichee layered intrusive complex were formed by individual pulses of molten rock. An accurate estimate of the makeup of each pulse is not known because well-defined examples of chilled margins have not been detected. Numerous pulses of magmatic intrusions, each of which might have led to a volcanic eruption, are required to explain the cyclic nature of the Kanichee layered intrusive complex. In the lower four magmatic series, masses of chromite, olivine and clinopyroxene develop rocks varying from dunite to clinopyroxenite. The fifth magmatic series comprise a similar suite of ultramafic rocks overlapped by olivine and quartz gabbros in which plagioclase, clinopyroxene and an iron-titanium oxide phase are the dominant minerals. The first magmatic series comprised the nickel-copper-PGE ore in which the Kanichee Mine extracted. The comparison in mineralogy and chemistry of the ultramafic rocks of the five magmatic series indicates that every magmatic series was developed by magma of similar composition. A lens-shaped area of quartz gabbro remains directly south of the main portion of the intrusive complex. However, it is not clear whether it has a separate magmatic origin from the olivine gabbros found in the Kanichee layered intrusive complex. The ore zone rocks from the first magmatic series clearly have connections with adjacent metavolcanic rocks of the Temagami greenstone belt.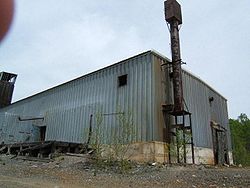 One of the several buildings at the Kanichee Mine.
Click to enlarge
Mineral resources that are not mineral reserves do not have demonstrated economic viability. Neither the Toronto Stock Exchange nor its Regulation Services Provider (as that term is defined in the policies of the Toronto Stock Exchange) accepts responsibility for the adequacy or accuracy of this website.
Qualified Person under NI 43-101
Christopher M. Kravits P.Geo., a consultant of the Company is the qualified persons responsible for the technical information on this website.
Cautionary Note Regarding Forward-Looking Statements
Certain statements contained on this page, including statements which may contain words such as "expects", "anticipates", "intends", "plans", "believes", "estimates", or similar expressions, and statements related to matters which are not historical facts, are forward-looking information within the meaning of applicable securities laws. Such forward-looking statements, which reflect management's expectations regarding Prophecy's future growth, results of operations, performance, business prospects and opportunities, are based on certain factors and assumptions and involve known and unknown risks and uncertainties which may cause the actual results, performance, or achievements to be materially different from future results, performance, or achievements expressed or implied by such forward-looking statements. These estimates and assumptions are inherently subject to significant business, economic, competitive and other uncertainties and contingencies, many of which, with respect to future events, are subject to change and could cause actual results to differ materially from those expressed or implied in any forward-looking statements made by Prophecy.
In making forward-looking statements as may be included on this page, Prophecy has made several assumptions that it believes are appropriate, including, but not limited to assumptions that:; there being no significant disruptions affecting operations, such as due to labour disruptions; currency exchange rates being approximately consistent with current levels; certain price assumptions for coal, prices for and availability of fuel, parts and equipment and other key supplies remain consistent with current levels; production forecasts meeting expectations; the accuracy of Prophecy's current mineral resource estimates; labour and materials costs increasing on a basis consistent with Prophecy's current expectations; and that any additional required financing will be available on reasonable terms. Prophecy cannot assure you that any of these assumptions will prove to be correct.
Numerous factors could cause Prophecy's actual results to differ materially from those expressed or implied in the forward looking statements, including the following risks and uncertainties, which are discussed in greater detail under the heading "Risk Factors" in Prophecy's most recent Management Discussion and Analysis and Annual Information Form as filed on SEDAR and posted on Prophecy's website: Prophecy's history of net losses and lack of foreseeable cash flow; exploration, development and production risks, including risks related to the development of Prophecy's Ulaan Ovoo coal property; Prophecy not having a history of profitable mineral production; the uncertainty of mineral resource and mineral reserve estimates; the capital and operating costs required to bring Prophecy's projects into production and the resulting economic returns from its projects; foreign operations and political conditions, including the legal and political risks of operating in Mongolia, which is a developing jurisdiction; title to Prophecy's mineral properties; environmental risks; the competitive nature of the mining business; lack of infrastructure; Prophecy's reliance on key personnel; uninsured risks; commodity price fluctuations; reliance on contractors; Prophecy's minority interest in Prophecy Platinum Ltd.; Prophecy's need for substantial additional funding and the risk of not securing such funding on reasonable terms or at all; foreign exchange risks; anti-corruption legislation; recent global financial conditions; the payment of dividends; and conflicts of interest.
These factors should be considered carefully, and readers should not place undue reliance on the Prophecy's forward-looking statements. Prophecy believes that the expectations reflected in the forward-
looking statements contained on this page and the documents incorporated by reference herein are reasonable, but no assurance can be given that these expectations will prove to be correct. In addition, although Prophecy has attempted to identify important factors that could cause actual actions, events or results to differ materially from those described in forward looking statements, there may be other factors that cause actions, events or results not to be as anticipated, estimated or intended. Prophecy undertakes no obligation to release publicly any future revisions to forward-looking statements to reflect events or circumstances after the date when information on this page is published or to reflect the occurrence of unanticipated events, except as expressly required by law.