Mid-Year Review Letter from Chairman of Prophecy Coal
VANCOUVER, BRITISH COLUMBIA - (June 24, 2011) - I am pleased to provide this mid-year review of Prophecy's progress against goals set out in my 2010 year end letter http://www.prophecycoal.com/news_2010_dec24b.php.

2011 thus far was highlighted by several accomplishments namely:
- Successfully commissioned new mining fleet at Ulaan Ovoo ("UO")
- Steadily advanced UO to commercial production with 230,000 tonnes of coal mined
- Secured an allocation at a Russian Far East seaport
- Obtained Chandgana Tal Mining License
- Submitted Chandgana Power Plant Project feasibility with the Mongolia Government
- Completed the spin-off of Prophecy's core Canadian assets to Prophecy Platinum
- Strengthened the board and management team:


- Jivko Savov, Prophecy director (Current Deputy CEO of En+)
- Chuluunbaatar Baz, Prophecy director (Head of Mongolia's Monnis Group
- David Jan, Prophecy CFO (Formerly head of IR of Western Coal Corp)
- Ronnie Van Eeden, Head of Prophecy Mongolia, (Long standing with Eskom)
We invested over $25 million in the equipment and commissioning of Ulaan Ovoo. Commissioning a mine is a significant challenge for any company, particularly so for Prophecy as we are a new team. It took time to integrate our new staff in Mongolia, and commissioning a mine and overseeing 100+ Leighton staff consumed considerable time to deal with various issues such as late equipment delivery, evolving mine plan, truck availability, local relations, stock piling, and diesel fueling. As the Chief Executive handling marketing, shareholder relations, government networking, ground operations, and negotiating logistics and off take, I became a bottleneck, which led to delay in concluding off take and logistics arrangements.
Since May 1, I have reprioritized and sharpened my focus towards off take and logistics, away from marketing and IR. We are seeing tangible results. Sea port allocation is secured, and I expect rail allocation (from Mongolia Naushki border to Seaport) to materialize shortly.
As our experienced staff have had some time to settle in and learn one another's strengths and weaknesses, Prophecy has been reorganized with greater emphasis on delegation and accountability. Ronnie who relocated his family to Mongolia in April, is in charge of advancing UO and Chandgana mines. I am arranging Chandgana financing while Paul Venter and Michael Deats are providing technical support to UO and Chandgana projects. David Jan is leading our IR and communication efforts, and we are currently recruiting coal traders to help us better market and sell UO coal.
At this point, I like to share with you our progress and excitement over at our flagship Chandgana project. In 2011, there has been monthly Mongolia site visit at UO and Chandgana. The Chandgana power plant (TPP) project has particularly attracted interests from international bankers and investors.
Our power plant application is advancing within the Mongolian government, which has been keen to work with Prophecy to address the country's critical energy shortage. Evonik industries of Germany have been engaged to complete TPP Project Bankable Feasibility Study (BFS) by Q3 2011, and a Hong Kong investment bank has been retained to advise on TPP Project planning and financing. I hereby attached the coal and electricity tariff charts of Mongolia and China.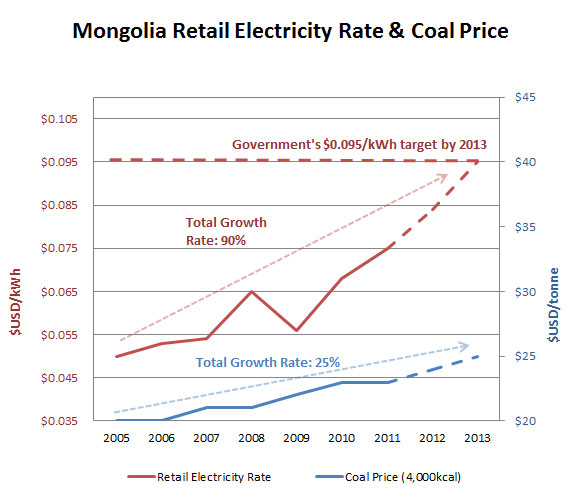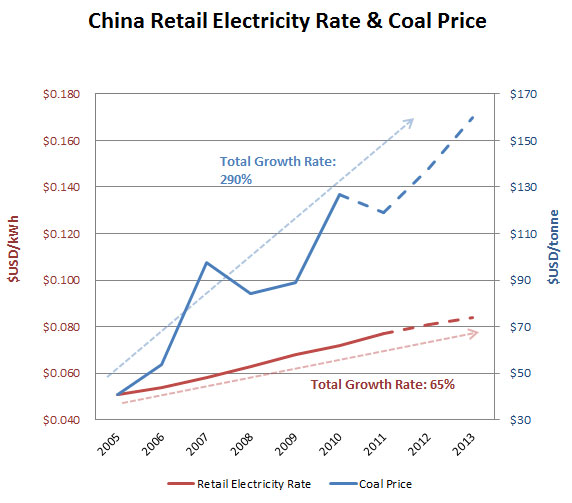 Clearly, in China, one should focus on selling coal, and in Mongolia, it makes whole lot more sense to concentrate on supplying electricity. Energy price control leads to dwindling supply and under investment. Mongolia has had its awakening moment, thus it is deregulating the electricity industry to ensure steady supply of electricity to sustain growth, and boosting electricity tariff that is to surpass China's tariff this year. It is every independent power plant operator's ideal scenario to have steady low-cost coal supply and a government that supports free market electricity pricing and promotes foreign investment. We expect very robust economics for the Chandgana TPP when the BFS is released in Q3.

With those thoughts, I like to stress Prophecy Coal's identity as a coal producer, not a utility company. We incubate power plants which create demand for our coal, and we will find the right partner at the right time to fund the power plant. The same approach can be adopted for other value-added vertically integrated businesses such as coal to liquids, coal gasification, and clean coal upgrade, which hopefully within years will mature into proven scalable technologies.

With this long term vision, we can see tremendous values being unlocked from our 1.2-billion-tonne* Chandgana coal resource, which is next door (350 km) to the world's second largest economy and most populous country.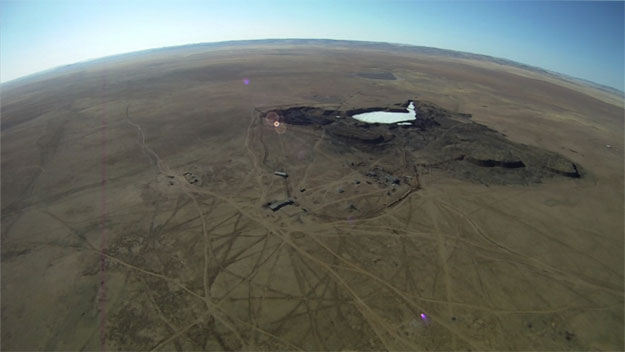 Prophecy's objectives for the remainder of 2011 include:
- Commence shipments of Ulaan Ovoo coal to Asian customers via Russia's eastern seaports
- Obtain full licensing to construct Chandgana Power Plant
- Tender Chandgana TPP project and select EPC contractor
- Study power plant feasibility at Ulaan Ovoo

We are experiencing a slow and correction phase for publicly traded coal companies. As the biggest shareholder of Prophecy who purchased over 750,000 shares this year at substantially higher prices, I share your sentiments and appreciate your patience as we execute our business plan. Many Prophecy staff are working double or triple shifts and we are all thankful of your support. In time, share price will reflect the values we are creating for Prophecy investors and for Mongolia. Together, we will accomplish Prophecy's goal of fulfilling Asia's energy needs.


Sincerely,

John Lee
Chairman and CEO
*Sep 2010, 43-101 Technical Report On Chandgana Khavtgai by Kravits Geological Services, LLC and Sep 2007, 43-101 Technical Report On Chandgana Tal by Behre Dolbear & Company (USA), Inc.
About Prophecy Coal
Prophecy Coal Corp. (formerly Prophecy Resource Corp) is a Mongolian coal company engaged in developing energy projects. The company controls over 1.4 billion tonnes of surface minable thermal coal resources on two coal properties in Mongolia. Prophecy Coal's Ulaan Ovoo thermal coal mine is in preproduction and its Chandgana mine mouth power plant is currently being permitted. Prophecy Coal also owns equity stakes in Prophecy Platinum Corp., Victory Nickel Inc. and Compliance Energy Corp. Mineral resources that are not mineral reserves do not have demonstrated economic viability. Further information can be found at www.prophecycoal.com.
ON BEHALF OF THE BOARD OF DIRECTORS of Prophecy Coal Corp.
John Lee, Chairman
For more information about Prophecy, please contact:
David Jan
Chief Financial Officer
1-800-358-5865
[email protected]


The Company has commenced mining development activities on the Ulaan Ovoo Property without having completed a feasibility study on the Ulaan Ovoo Property. There are certain risks and uncertainties associated with commencing production without a feasibility study. The deposit may lack all geological, engineering, legal, operating, economic, social, environmental, and other relevant factors which may be required to serve as a reasonable basis for a financial institution to finance the development of the deposit for mineral production. Additionally, the outcome of the feasibility study may not be positive or optimal for the production scale being initiated.

Mineral resources that are not mineral reserves do not have demonstrated economic viability. Neither the Toronto Stock Exchange nor its Regulation Services Provider (as that term is defined in the policies of the Toronto Stock Exchange) accepts responsibility for the adequacy or accuracy of this release.
Forward Looking Statements: This news release includes certain statements that may be deemed "forward-looking statements". All statements in this release, other than statements of historical facts, including, without limitation, statements potential mineralization, the estimation of mineral resources, the realization of mineral resource estimates, interpretation of prior exploration and potential exploration results, the timing and success of exploration activities generally, the timing and results of future resource estimates, permitting time lines, metal prices and currency exchange rates, availability of capital, government regulation of exploration operations, environmental risks, reclamation, title, and future plans and objectives of the company are forward-looking statements that involve various risks and uncertainties. . Although Prophecy believes the expectations expressed in such forward-looking statements are based on reasonable assumptions, such statements are not guarantees of future performance and actual results or developments may differ materially from those in the forward-looking statements. Forward-looking statements are based on a number of material factors and assumptions. Factors that could cause actual results to differ materially from those in forward-looking statements include failure to obtain necessary approvals in respect of the Transaction, unsuccessful exploration results, changes in project parameters as plans continue to be refined, results of future resource estimates, future metal prices, availability of capital and financing on acceptable terms, general economic, market or business conditions, risks associated with operating in foreign jurisdictions, uninsured risks, regulatory changes, defects in title, availability of personnel, materials and equipment on a timely basis, accidents or equipment breakdowns, delays in receiving government approvals, unanticipated environmental impacts on operations and costs to remedy same, and other exploration or other risks detailed herein and from time to time in the filings made by the companies with securities regulators. Readers are cautioned that mineral resources that are not mineral reserves do not have demonstrated economic viability. Mineral exploration and development of mines is an inherently risky business. Accordingly the actual events may differ materially from those projected in the forward-looking statements. For more information on Prophecy and the risks and challenges of their businesses, investors should review their annual filings that are available at www.sedar.com.

"Neither the Toronto Stock Exchange nor its Regulation Services Provider (as that term is defined in the policies of the Toronto Stock Exchange) accepts responsibility for the adequacy or accuracy of this release."

This press release does not constitute an offer to sell or a solicitation to buy any of the securities in the United States. The securities have not been and will not be registered under the United States Securities Act of 1933, as amended ("the U.S. Securities Act") or any state securities law and may not be offered or sold in the United States or to U.S. Persons unless registered under the U.S. Securities Act and applicable state securities laws or an exemption from such registration is available.